TPM is a system that gained its popularity around 1970's. In most simplified terms, it is taking utmost care of health and state of machine and to keep the uptime above 95%.
Total means bringing all stake holders in team, producing goods that are of highest quality and avoiding all possible ways of waste generation and losses that may cause due to lack of appropriate maintenance.
Gone are those days when machines used to break down and monopolies to bring back the machine in operation were thriving at the cost of opportunity and business loss.
If TPM can be practiced religiously, then it imbibed in the DNA of any Organization giving it an edge to compete in market and allows taking necessary risk without affecting the bottom-line of the business.
TPM makes business output predictable and hence it increases brand name and market share.
TPM is generally formed by its EIGHT Pillars, 5S, Autonomous Maintenance, Kobetsu Kaizen, Planned Maintenance, Quality Maintenance, Training, Office TPM & EHS.
TPM bring about a holistic change in the approach of the team to take ownership of their machine and that helps to introduce reforms in almost every aspect of the business.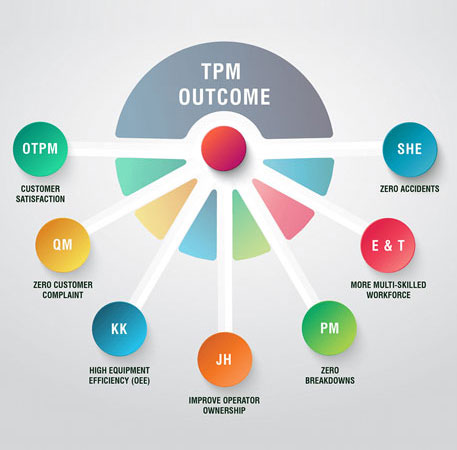 TPM will increase productivity and can boost Overall Plant Efficiency by 50 to 100%.
It can reduce the deviations in the products and thereby almost eliminate customer complaints.
TPM has potentials to bring down Maintenance cost by one third to that of before TPM.
Takes the team spirit of organization to a new level and ensures successful implementation of other Lean Systems.
Plant machineries and utilities are maintained as good as OEM condition with minimum cost.
Individuals Interested In Joining Our Training Programs Can Fill Contact Details.
For more information please visit Total Productive Maintenance
Intellectuals solve problems geniuses prevent them
Albert einstein
If you always do what you always did you'll always get what you've always got
Henry ford
Perfection is not attainable but if we chase perfection we can catch excellence
vince lombardl
Training
One working day of training at your own facilities, for a team consisting of 5 to 15 members customized for them to have detail understanding on the subject and they can embark on the opportunity to add the knowledge for their desk & department. Generally these trainings are impactful enough to generate the desire in the participants to take initiative & implement these principles at work and in personal lives as well. YES I AM INTERESTED
Consulting
We are having 20 years of practical experience on operations of the plants and have closely observed the key aspects of maintenance and conditions of machinery's and utilities on how they impact a business. We are competent to not only implement TPM but can also offer everlasting technical solutions to place you on a strong foundation of Lean Manufacturing. YES I AM INTERESTED